YOU DON'T NEED TO DO THIS ALONE.
---
Empty Nest Success Starts Here
---
Register for access to additional resources!
---
Prepare for empty nest success.
---
READY TO FLY?
---
You are AMAZING! 💚
---
YOUR INCREDIBLE FUTURE IS AHEAD.
---
You can become the C.E.O. of Your Life!
---
C.E.O. here stands for Conscious Effective Olympian. It takes work to earn the title, but you are worth it!
---
THESE EPISODES ARE MY GIFT TO YOU
---
Your Empty Nest Coach Podcast
---
Freaking out about the empty nest ahead? Together we will channel your freaking out energy into freaking awesome energy! Podcast episodes have a base of life coaching infused with reminders to cheer yourself on and to be your own biggest fan!
---
CHRISTINE EXPLAINS THIS SPACE
---
VIDEO INTRODUCTION
---
I'm incredibly happy that you stopped by! 💚
---
YOUR PODCAST HOST AND EMPTY NEST COACH
---
Coach Christine
---
It is my passion to work with parents (with a focus on mothers) of high school students who are in the trenches with the fear, sadness and lonliness surrounding the next phase of life. I'm here to help you write the next jaw-dropping amazing chapter of your life. Think your life is over? It certainly isn't. You, my friend, are just getting started!
---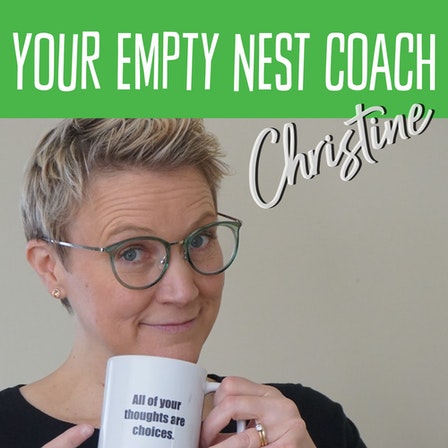 DOWNLOAD OUR FREE APP
---
Coming Soon!
---
To Android and iOS
---