YOUR INCREDIBLE FUTURE IS AHEAD.
---
You can become the C.E.O. of Your Life!
---
C.E.O. here stands for Conscious Effective Olympian. It takes work to earn the title, but you are worth it!
---
YOU DON'T NEED TO DO THIS ALONE.
---
Empty Nest Success Starts Here
---
Register for access to additional resources!
---
C.E.O. Training Team

Membership group

Ready to focus on leveling-up your life in a team environment? This is for you! Our next training session begins January 3, 2022!
THESE EPISODES ARE MY GIFT TO YOU
---
Your Empty Nest Coach Podcast
---
Freaking out about the empty nest ahead? Together we will channel your freaking out energy into freaking awesome energy! Podcast episodes have a base of life coaching infused with reminders to cheer yourself on and to be your own biggest fan!
---
Don't take my word for it...
---
Reviews
---
"

"I highly recommend the private coaching program! Coach Christine is insightful, compassionate, and inspiring and has helped me to envision this "empty-nest" phase of my life as an exciting new beginning. I am so grateful for this program. "
"

"Yes! I recommend the program! Christine is extremely present and supportive and really understands the complexity of the emotions one faces at this time of life."
"

"I recommend this program 1000 times over. If you want to make a positive change and better yourself, become emotionally accountable and mature as a person, I would recommend this program"
Support My Work
---
Support the over 150+ episodes of the Your Empty Nest Coach podcast, upcoming podcast series and weekly affirmations offered here. Thanks!
---
YOUR PODCAST HOST AND EMPTY NEST COACH
---
Coach Christine
---
It is my passion to work with parents (with a focus on mothers) of high school students who are in the trenches with the fear, sadness and lonliness surrounding the next phase of life. I'm here to help you write the next jaw-dropping amazing chapter of your life. Think your life is over? It certainly isn't. You, my friend, are just getting started!
---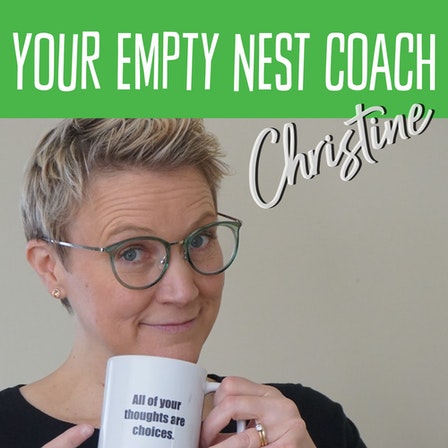 💚💚💚💚💚
---
I LOVE THESE...
---
Truly. I love them. That being said, they are affiliate links, and I'll get either a free month or a portion of your purchase if you purchase through my link. These are no-brainer share with you items.
---
You Need a Budget

Seriously changed my life

Future you will thank you for checking this one out! I talk about it in episode 154 of my podcast.
THANK YOU TO OUR
---
Sponsors
---
Your brand could be here.
---
Platinum SPONSOR

Your Brand Here

One gold sponsor per year.

Silver Sponsor

Your Brand Here

Sponsor one specific type of content for a period of time.

Bronze Sponsor

Your Brand Here

Sponsor a piece of content.
---
DOWNLOAD OUR FREE APP
---
Coming Soon!
---
To Android and iOS
---