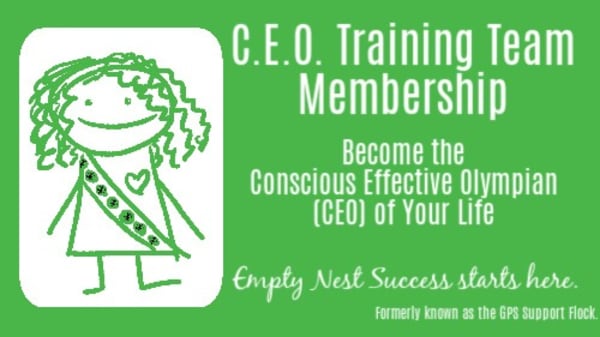 C.E.O. Training Team to Empty Nest Success
🌟🌟🌟 Special Offer - purchase now and you gain a full year of access at the current six-month membership price! 🌟🌟🌟
PRIVATE COACHING IS NOT INCLUDED IN THIS REGISTRATION.
Ready to become the C.E.O. (Conscious Effective Olympian) of Your Life?
YOU'LL GAIN
🚀 More Time
🚀 More Clarity
🚀 More Peace
🚀 Less Drama
INCREDIBLE ASSETS INCLUDED:
⭐ Weekly Power Hour 💪: Power hours are offered on Mondays via Zoom, led by Coach Christine 💚 Stop in to work on thought management, plan for your week, and more! Can't attend live? No worries, Christine uploads a quick video each week and commenting under the video is open! Power hours for May and June of 2023 will be held live at 1 PM EDT on Mondays.
⭐ Weekly What-if Videos (Affirmations) ☀️ : An under 1.5 minute video affirmation (transcript available) is added to our online space each week. C.E.O. Training Team members gain access to the entire catalogue and may request a focus for the affirmations for consideration!
⭐ Access To Workshop Archives 🗃️
⭐ Workshops (A minimum of 2 requested topics/year) 📺
⭐ Access to Curated Content 📂
⭐ Insider Access 🔏 : The C.E.O. Training Team members are my inner circle. You have the opportunity to coach 1:1 with Coach Christine, and you are the first to know of upcoming projects!
⚠ WARNING: Joining the C.E.O. Training Team or Private Coaching has the potential to change your life in incredible ways. Be ready to participate and to discover your amazing self!