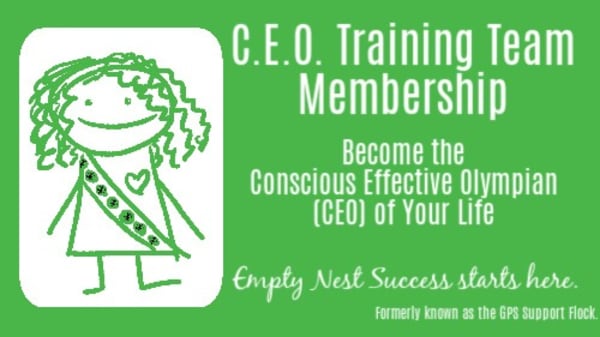 C.E.O. Training Team to Empty Nest Success
🌟🌟🌟 Special Offer - purchase now and you gain a full year of access at the current six-month membership price! 🌟🌟🌟
PRIVATE COACHING IS NOT INCLUDED IN THIS REGISTRATION.
Ready to become the C.E.O. (Conscious Effective Olympian) of Your Life?
YOU'LL GAIN
🚀 More Time
🚀 More Clarity
🚀 More Peace
🚀 Less Drama
INVALUABLE ASSETS PROVIDED
⭐ Weekly Power Hour 💪: A minimum of two times offered on Mondays to accommodate different time zones (see note 🎶) via Zoom, led by Coach Christine 💚 Stop in to work on thought management, plan for your week, and more! 🎶Sessions are identical but you are welcome to attend all.
⭐ Weekly What-if Videos (Affirmations) ☀️ : An under 1.5 minute video affirmation (transcript available) is added to our online space each week. C.E.O. Training Team members gain access to the entire catalogue and may request a focus for the affirmations for consideration!
⭐ Access To Workshop Archives 🗃️
⭐ Workshops (A minimum of 2 requested topics/year) 📺
⭐ Access to Curated Content 📂
⭐ Insider Access 🔏 : The C.E.O. Training Team members are my inner circle. You have the opportunity to coach 1:1 with Coach Christine, and you are the first to know of upcoming projects!
⚠ WARNING: Joining the C.E.O. Training Team or Private Coaching has the potential to change your life in incredible ways. Be ready to participate and to discover your amazing self!
Join now and you get lifetime access for six-month membership pricing!